IT Support Engineer - MSP - Onsite/Hybrid
Fulltime, Direct-Hire
Salary: $75-85+ Benefits
The IT Support & Client Consultant position is a full-time employment opportunity with an MSP (Managed Service Provider). As a team member of the MSP, you will assist multiple clients from the company and your home offices (hybrid). This position assists end-users with technical support of desktop computers, applications, and related technology via phone and remote desktop tools. You will also visit client sites and be the representative of the MSP. Professionalism and people skils are a must.
Activities require interaction with application software and operating systems to diagnose and resolve unique, non-recurring problems. The position utilizes one-on-one consultancy to end users via phone support. The position's responsibilities require independent analyses, communication, and problem-solving. Work is performed with little supervision and requires initiative and judgment.
Lead solar installations and provide the necessary direction for the support of any team members.
Collaborating with the Project Manager or the Site Manager per day/week/month for scheduling, project planning, and execution.
Assist with project designs and engineering/equipment specifications.
Have direct communication and evaluate progress reports with the Project Manager.
Ensure, practice and enforce the Employee Safety Guidelines, and Jobsite Safety including but not limited to safety equipment, proper use of tools, safety devices, etc..
Perform routine preventive maintenance checks & services on AV/VTC systems
Perform support on all AV systems including but not limited to troubleshooting, system fault isolation, leading support efforts with vendors and/or IT colleagues
Plan / propose A/V space implementation, improvements, and upgrades
Perform administrative tasks such as completing service tickets, maintaining an active status board on system readiness, etc
Setup and monitor video calls as needed
Track all maintenance activity start to finish with proper documentation
Maintain accurate inventory on all AV/VTC systems including spare parts
Excellent communication skills and telephone manners.
1st line support - troubleshooting of IT-related problems from software to Hardware.
Answer Service Desk calls, resolve issues via RDP tools, and document service tickets accordingly.
Triage electronic tickets accurately with detailed notes
Troubleshooting workstation, networking, and server issues remotely
Take ownership of user problems and follow up on the status of problems on behalf of the user and communicate progress promptly.
Maintain a high degree of customer service for all support queries and adhere to all service management principles.
Assists end-users with the installation, configuration, and ongoing usability of desktop computers, peripheral equipment, and software within established standards and guidelines.
Knowledge or basic understanding of Ticket Lifecycle and SLA.
Escalate unresolved calls to the infrastructure support team.
Windows OS, user profiles, backup and restore.
Troubleshoot basic network issues - Work with Network Operations staff as appropriate to determine and resolve problems received from clients.
Updating Asset Management.
Mobile device support.
Knowledge of Audio/Visual.
Troubleshooting corporate printing.
Works with procurement staff to purchase hardware and software.
Assesses functional needs to determine specifications for purchases.
Provide statistics for the weekly, and monthly Service Desk report metrics.
401(k)
401(k) matching
Dental insurance
Employee assistance program
Health insurance
Paid time off
Professional development assistance
Retirement plan
Tuition reimbursement
Vision insurance
Tier2Tek Staffing - Direct Hire
(720) 722-2385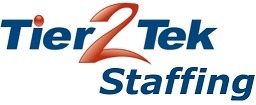 1013 H St NE, Washington, DC, 20002, USA
$75,000.00
-
$85,000.00
Per year