Audio Visual (AV) Technician - Lead
We are seeking an Audio-Visual Lead. The selected candidate will participate in the operation, setup, and support of audiovisual equipment; will perform routine maintenance and troubleshoot malfunctions of AV equipment.
Installation of: Smart Home Control Systems, Audio-Video Systems, Network Racks & Equipment, Speakers, TVs, Home Theaters, Video Walls, Smart Cameras, Smart Doorbells, Motorized Shades, Low Voltage Wiring/Terminations, etc. The overall goal of the Lead Technician is to work with field personnel to achieve completion of the project with the highest level of safety, quality, efficiency and conformance to the original plans and specifications. This position will have the opportunity for a promotion as a Site Manager over time after review and qualification.
Lead solar installations and provide the necessary direction for the support of any team members.
Collaborating with the Project Manager or the Site Manager per day/week/month for scheduling, project planning, and execution.
Assist with project designs and engineering/equipment specifications.
Have direct communication and evaluate progress reports with the Project Manager.
Ensure, practice and enforce the Employee Safety Guidelines, and Jobsite Safety including but not limited to safety equipment, proper use of tools, safety devices, etc..
Perform routine preventive maintenance checks & services on AV/VTC systems
Perform support on all AV systems including but not limited to troubleshooting, system fault isolation, leading support efforts with vendors and/or IT colleagues
Plan / propose A/V space implementation, improvements, and upgrades
Perform administrative tasks such as completing service tickets, maintaining an active status board on system readiness, etc
Setup and monitor video calls as needed
Track all maintenance activity start to finish with proper documentation
Maintain accurate inventory on all AV/VTC systems including spare parts
2+ years experience in residential audio-video installation
Knowledge of modern audio-video systems
Knowledge of mounting, tools, construction, or electrical concepts
Knowledge of low voltage cabling types, tools, drilling, mounting, etc.
Training and experience servicing Video Teleconference equipment
Current familiarity with commercial audiovisual, videoconferencing, and broadcast manufacturers of equipment, including some direct training.
Training and experience servicing in-room audio
Training and experience servicing Digital Signal Processors (DSP) equipment
Crestron, Crestron Toolbox, Cisco, Zoom, Teams, WebEx, Digital Signal Processors and switches; Biamp DSP; Shure, Dante, etc.
Strong Understanding of IP networking
Strong computer skills including PC-based applications such as Microsoft Office (Word, Excel, & PowerPoint), Microsoft Outlook, Microsoft Project, etc.
Strong organizational skills and the ability to multi-task
Help train team members in proper industry standards
Self-sufficient, self-motivated, organized, reliable and punctual
Professional demeanor and good people skills including the ability to interact well with Customers, office personnel, field technicians, engineers, sales, vendors, and upper management, etc.
Excellent work ethic and dedication to schedule commitments
401(k)
Dental insurance
Health insurance
Life insurance
Paid time off
Vision insurance
Tier2Tek Staffing - Direct Hire
(720) 722-2385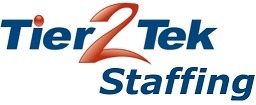 1640 Logan St, Denver, Colorado, 80203, USA
$60,000.00
-
$75,000.00
Per year